191 Years of 'Matrimonial Conexcion'
As personal ads from almost two centuries ago show, there have always been those who would rather search than settle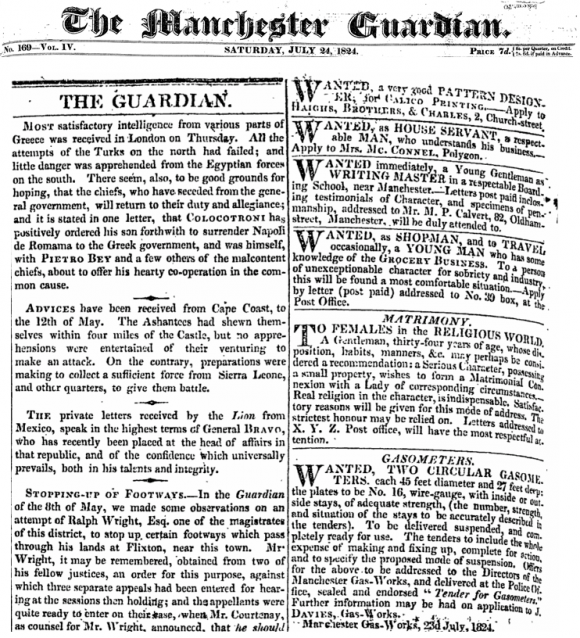 On Saturday 24 July1824, a "Gentleman" of "Serious Character" placed an advert in the Manchester Guardian, seeking to form a "Matrimonial Conexcion". The notice was placed on page 3, between an article on the latest news from Greece and a wanted ad for two gasometers.
The Manchester Guardian was first published in 1821. Its founder was merchant, reformer and religious nonconformist John Edward Taylor. He established the paper in the aftermath of the massacre of 11 protesters at the Peterloo democracy rally in Manchester. In those days, the first pages of the Guardian were given over entirely to adverts, promoting all kinds of enterprises and events. In fact, the very first words to appear in the Guardian were about a lost dog.
Advertising for matrimony was quite commonplace by the 1820s, so it's not surprising that the Manchester Guardian printed such ads in these years.
Here's the full text of the very first Guardian advert under the heading "matrimony":
To FEMALES in the RELIGIOUS WORLD, A Gentleman, thirty-four years of age, whose disposition, habits, manners &c. may perhaps be considered a recommendation: a Serious Character, possessing a small property, wishes to form a Matrimonial Conexcion with a Lady of corresponding circumstances – Real religion in the character is indispensible. Satisfactory reasons will be given for this mode of address. The strictest honour may be relied on. Letters addressed to X.Y.Z. Post office, will have the most respectful attention.
The cost of buying a newspaper, and the cost of taking out an advert, meant that advertising for a life partner in the press was beyond the means of many workers – yet there are records of printed handbills from this period, distributed by labourers looking for love. The following example appeared in the Dorset County Chronicle in 1832, under the headline "A Chance for Spinsters", and was described as "an amusing hand-bill as an inducement to some blushing damsel beyond a certain age":
A Bill for a Wife – Matrimony, Charles Warren, Marnhull, Dorset – My family is as follows: the eldest boy is 13 years old – the younger 5 years old – and a girl 8 years old. My house is my own, and have no rent to pay. I have an acre of potatoes, half blues, half whites, this year. My wife has been dead 12 months' ago, last Shroton Fair – The children live by themselves in the daytime, but I am always home with them at night. I do think that it would be better if there was a woman to look after them, both for the children and myself. … I want a good steady woman between 30 and 40 years' old, for a wife. I do not want a second family. I want a woman to look after the pigs while I am out at work.
Advertising for matrimony was also common amongst the aristocracy around this time. Here's a fine fellow from Germany, Baron Theodor Von Hallberg-Broich, who received over 700 responses to his advert of 1841.
Of his potential partner, Von Hallberg de Broch said: "she must be from 16 to 20 years of age; she must have beautiful hair, handsome teeth and a charming little foot". Perhaps he attracted hundreds of responses due to his endearing personality, or perhaps it's just because he had his own castle.
The adverts from these times evoke a different age, when marriage for love was a fairly recent idea. So to take control of one's love life by advertising for a match, to take that leap of faith that "someone out there" will be perfect for you, and to determine that it's better to search than to settle, was a brave and admirable attitude. 
Links and sources
The Guardian Archive blog: www.theguardian.com/theguardian/series/from-the-archive
Laura J. Schaefer, Penetrating the Personals: A History of Advertising for Love: www.nytimes.com/2003/02/14/opinion/looking-for-love-online-or-on-paper.html
The British newspaper archive blog: http://blog.britishnewspaperarchive.co.uk/2015/02/13/6-terrible-love-tips-from-historys-lonely-hearts/