Restaurant Review: Molé Taco Bar
We head to Marylebone for a refined take on Mexican food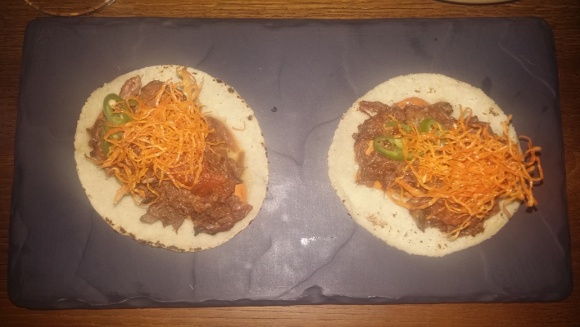 This Marylebone newcomer is the perfect hangout for Mexican food lovers with sophistication; wave goodbye to what you think you know about heavy, stodgy Mexican food and say "Hola!" to Molé Taco Bar.
If your date loves Mexican food (you wouldn't be dating them if they didn't), you'll be sure to impress them by bringing them here – this is a venue that both understands their passion and is able to build on it with dishes that score highly on the scale of refinement. If Molé was a celebrity among South American food, it would be the ever-so-chic Victoria Beckham: classic, refined and classy.
You should definitely nibble on the pomegranate guacamole while you're deciding what to order and sipping on your cocktails – go for the Guava Pisco Sour to refresh your palate during the meal or the Coco Fresco if you're a coconut fan. We sampled a few of the tacos but in particular loved the chipotle beef taco, which comes spicy with jalapeños and a sweet potato hash. But if you fancy something different, try the sea bass ceviche and don't skip the sides: the patatas bravas and the quinoa salad will go well with whatever you choose.
This is the perfect place to take a gluten-free beau, as 80 percent of Molé's menu contains zero gluten, while still maintaining that classic Mexican comfort-food vibe. And with portions just the right size to share, you'll be able to indulge in each others' taco choices.
If you go to any Mexican restaurant on a date, make sure its Molé and you'll have plenty more dates to come.